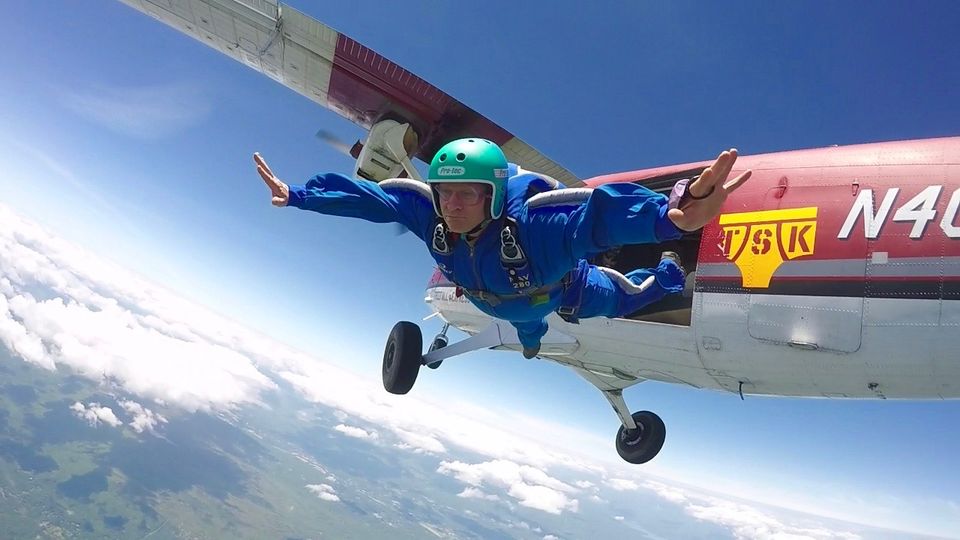 Did your tandem skydive change your life?  Did you decide that it is time for you to learn how to skydive with the help of our talented Skydiving Instructors?  Well you are at the right place!!
Our IAF (Instructor Assisted Freefall) program takes you through an in-depth training program that once completed will allow you to become licensed by the United States Parachute Association (USPA).  All of the details can be found here!!  Keep reading!
Step 1 – First Jump Course (FJC)
The comprehensive First Jump Course is the first step in getting your skydiving A license.  This one day classroom course will lead you through everything you need to know to make your first Skydive with two licensed instructors assisting.  Once you have successfully completed this course, you will be ready to make your first non-tandem skydive with two licensed instructors assisting in the entire process.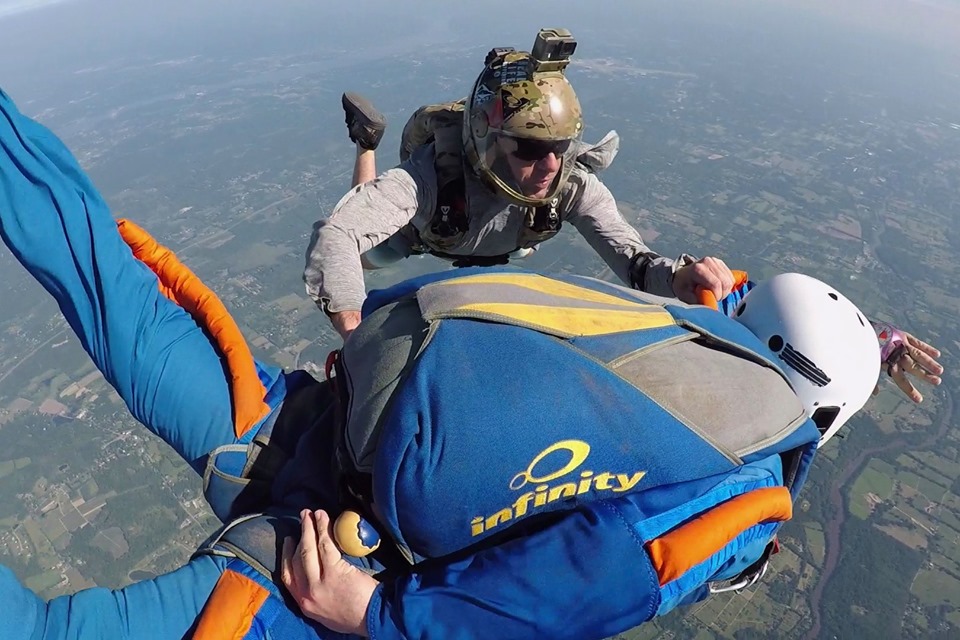 Your first non-tandem skydive IAF – Level 2
For your first Skydive you will be training

and jumping

with TWO instructors trained to ensure your safe ground preparation, plane ride to jump altitude, exit from the aircraft, freefall drills and parachute deployment.
Once under your own parachute, an instructor on the ground will provide you with radio assistance to fly your parachute back to the dropzone for landing.
After successfully completing your Level 2 skydive you will continue on with the remaining levels which will introduce new objectives that must be successfully completed before moving on to the next level.
The details for each IAF level are available in our course outline.
The pricing details for each skydive (level) are below.
After completing the IAF levels outlined below, and completing a total of twenty five skydives (prior tandems, IAF levels, and solo skydives) you will have completed the requirements for a USPA Skydiving A License.
With your A license you are able to skydive without the supervision of an instructor anywhere in the world USPA licenses are accepted.
Attention AFF Students!!
ALL new reservation requests will be made via the new system effective immediately.
This is only for level jumps – coach and solos are come at will – no reservation needed.
During this new booking process, a $50 deposit is now required. If you do not call or email to reschedule or cancel your booking 48hrs prior, we will be keeping your deposit. Cancellations should be sent to [email protected] or call 845-255-4033. If students are canceled due to weather, you will be rescheduled or get a refund.
Multiple reservations are allowed – HOWEVER – if you make multiple reservations, you will need to leave a $50 deposit for EACH. If you pass all your levels and do not cancel lingering reservations – you will be charged the $50 for EACH.
IAF Levels 2 & 3
Two Instructors
IAF Levels 4 – 7
One Instructor
IAF Levels 9 – 11
Coach Jumps
IAF Levels 12 – 13
Hop n Pops
Solos
To complete 25 jumps for license